We at Coconut Films are a bunch of simple people.
 We have no vision for the company and no fancy mission statement. What we do have is passion and love for whatever we do.
And we hope that it shows in our work.
We understand basic things like 'kuch accha kaam karte hai' and nothing makes us happier ' jab kuch accha kaam hota hai'.
What started off as a husband-wife production house is now a family of over 20.
So if you do have a lot of time at hand, you can check out a little more about each and every one of us by clicking on the pictures below.
PS: Do let us know who's picture you think is the best. A lot of us don't seem to have mirrors.
Co-founder and Executive Producer
Tushar Raut
Wannabe chemical engineer turned producer… Tush, as he is fondly known is the backbone of the organization. 'Ho jayega' are the words he swears by, and more often than not, 'ho jaata hai'
Loves: Food. Hates: The side effects of overeating.
Director
Bopanna Ganesh
Bops is a man of few words, and one has to have an above average IQ to understand those words. He is a Coorgi and he is proud about being one.
Loves: Brit comedies. Hates: Taking a selfie.
Director
Subodh Menon
Gambler turned director... Scooby as he is fondly known, is the wittiest man on this planet. "Dus minute de" are the words he swears by and never stands by.
Loves (without a doubt): His Monk. Hates: People who don't consume enough of it.
Director
Ramsam (Rajesh Ramaswamy)
He is our very own night king. The only person who can party from sunset to sunrise. And more often than not he is the only one that survives the long night. For all non GOT fans, a Bollywood reference of the same is 'iss raat ki subah nahi'
Co-founder and Executive Producer
Nupur Guha
Most definitely the life of the company… Nups is a sheer joy to work and party with. Makes her a favorite with directors and agencies but not so much with the accounts team.
Loves: Jagerbombs. Hates: Slackers.
Director
Subhadra Mahajan
Dante Ariola, Joe Roman, Erick Ifregan, Jim Sonzero, Mikon Van Gastel and even the legendary Emmanuel Lubezki a.k.a. Chivo are some of the people that she has worked with. She's also co-written 'Angry Indian Goddesses'. We make sure we are nice to her.
Director
Ujjwal Kabra
UJ is so unassuming that if you meet him outside of advertising, you simply cannot say he is the man behind some of the biggest brand campaigns in the country. Now that he is a director, he has accessorised himself in an attempt to look cool. Well tried, UJ!
Director
Aiman Ali
If not a director, he would have been a table tennis player. Draws inspiration from sports and sees a definite parallel between life and sports. Took a round trip-from Mumbai University to NYFA and back to India, as a director. Loves: The obvious by now - Sports. Hates: Latecomers.
Assistant Director
Jagreet Hodavadekar
He is often mistaken for a local rapper. Jagreet is hardworking, dedicated and has what it takes to get the job done.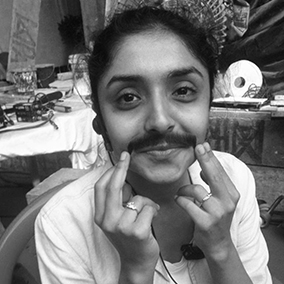 Senior Producer
Mrudangi Jasani Baidya
Punctual, diligent, hard working, process driven - Dang has enough good qualities to cover up for all of us. But she is vegetarian and a teetotaller, so not all good qualities.
Loves: Jokes. Hates: Not getting them.
Producer
Minoti Ashar
She used to be our in-house Zomato, but now she is also our in-house Swiggy, Foodpanda and Ubereats. Never has there been a restaurant, that she is not friends with the waiter, cleaner, manager or DJ.
Loves: Everything bling. Hates: Early mornings.
Associate Producer
Suraj Shetty
Starting as an intern with us, Sunny went on to be a DA, an Ad, post assistant and finally settled on being a producer. He is our in house all rounder and ironically he cant name even 3 all rounders.
Loves: Chicken Lollipops. Hates: Sports.
Head of Post-production
Saurabh Patil
Patil can make anything possible on post, as long as you say nice things about him. Eg: He could've been the post production head on game of thrones, but it is our privilege that he chooses to work with us.
Chief of Accounts
Hemant Kacharekar
He is Captain accounts and his superpower is the most effective - The power to give a cheque on time. So no matter who you are, you got to be nice to him.
Loves: Money. Hates: Giving it away.
Account Assistant
Tejas Golam
The more money one has, the more people you need to manage it. Which is why we hired Tejas in team accounts. Now all we need is money that he can manage.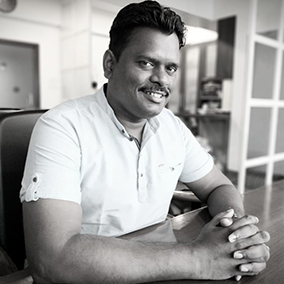 Accountant
Raju Shekhare
He is coconut's most wanted man. The go to guy for producers and vendors alike. So whether it is bills, due dates, TDS, GST or MNS; Raju is the man.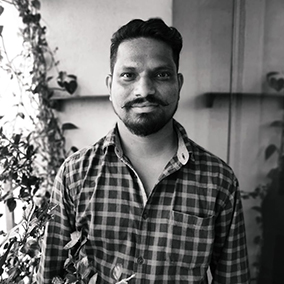 Head Office Help
Prakash Yejre
He is the Silent Worker. You'll never notice him around. But is always around when you need him.
Cook
Sadhan Sarkar
'Sadhanji' as he is referred to in office, is sometimes the only reason that we come to work. A wonderful cook who loves talking about the ingredients that went in the food that he's cooked.
Office Help
Vivek Pawar
The office help who does more than he is expected off. A keen observer and a quick learner, Vivek is always making mental notes on the job.
ADDRESS
COCONUT FILMS
B/417, Samartha Aishwarya,
4th Floor, Oshiwara, Andheri (West),
Mumbai: 400 053. India.
Phone
(+91) (22) 26310000
EMAIL
LET'S WORK TOGETHER
contact@coconutfilms.in